2001 FENDER FRONTLINE EXTRA CATALOG
Click on small photos to view large photo.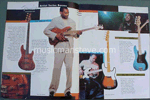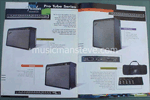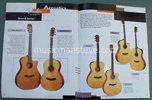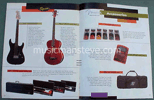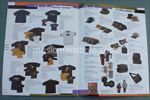 Offering for your consideration this original 2001 "FENDER FRONTLINE EXTRA" 22-page catalog shown in the photos. This is an 8 1/2" x 11" format full color brochure printed on good qualtiy magazine stock that contains photos and information on some cool Fender products available at the time...50th Anniversary Basses, Artist Series Basses (Victor Bailey Jazz Bass, Steve Harris Precision Bass, Sting Signature Precision Bass, Custom Classic Jazz Bass IV and V, American Deluxe Basses, American Deluxe Zone Bass, Standard Precision and Jazz Basses. Also includes Pro Tube Series amps and Artist Series Guitars (Tom Delonge Stratocaster, Jeff Beck Stratocaster, Eric Clapton Stratocaster, Iron Maiden Strat...Tel Sub-Sonic, '60s Classic Telecaster, Standard Telecaster Lef-Hand, Fender Acoustics, Squier Stagemaster and Acoustic Bass as well as the full line of accessories, collectible tone wear, sound system, etc A neat addition to the library of any Fender fan!! ...$21.95 (post paid US)
For Paypal purchase (US only) simply hit the "Buy Now" button below.
---
---
OVERSEAS price is $21.95 plus $14.99 postage. For direct Paypal payment (overseas)...just hit the "PayPal Payments" button below.



If you have any questions ...please e-mail Steve


musicman5@cox.net









---
---
I usually respond to ALL e-mail inquiries. If you do not get a response it usually means I did not get the e-mail message...try again with a cc to steve@musicmansteve.com


---
Home | Guitars | Guitar Parts & Accessories | Picks | Banjos, Mandolins, Ukes, etc. | Banjo Parts & Accessories | Primo Pots | Guitars Wanted | Contact | Guitar Tuner Reference | Magazine Backissues | Vintage Paper Resource | Photo Gallery | Vintage Print Ads |
&copy 2015 Music Man. All Rights Reserved.