orig 2001 FENDER BASS STREET color pamphlet...info, profiles, products, etc!
Click on small photos to view large photo.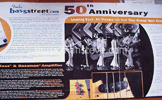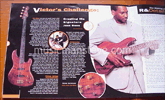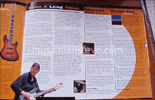 Offering for your consideration this original 2001 FENDER BASS STREET color pamphlet shown. As the pix show it's chock full of information with some player profiles as well as products offered. This is a full color 8 1/2" x 11" format pamphlet with photos of numerous Fender Bass endorsees ..normal signs of use...small tear lower left of cover... very good condition...
$19.99 (post paid US)
For Paypal purchase (US only) simply hit the "Buy Now" button below.
---
---
OVERSEAS price is $19.99 plus $14.99 postage. For direct Paypal payment (overseas)...just hit the "PayPal Payments" button below.



If you have any questions, old mags, guitar parts, banjo parts to trade......please e-mail Steve


musicman5@cox.net









---
---
I usually respond to ALL e-mail inquiries. If you do not get a response it usually means I did not get the e-mail message...try again with a cc to steve@musicmansteve.com



---
Home | Guitars | Guitar Parts & Accessories | Picks | Banjos, Mandolins, Ukes, etc. | Banjo Parts & Accessories | Primo Pots | Guitars Wanted | Contact | Guitar Tuner Reference | Magazine Backissues | Vintage Paper Resource | Photo Gallery | Vintage Print Ads |
&copy 2016 Music Man. All Rights Reserved.