2001 FENDER FRONTLINE COMPLETE CATALOG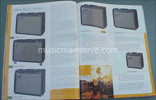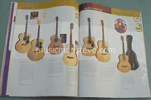 Offering for your consideration this original 2001 FENDER FRONTLINE 209-page catalog shown in the photos. This is an 8 1/2" x 11" format full color brochure printed on good magazine stock that contains photos and information on the complete line of electric guitars, acoustic guitars, amplifiers and accessories offered by FENDER at this time. Also has artist features as well as other features (see photos). Shows some amazing Fender stuff in full color including everything from Squiers and Standards through the Collectible series and right on to Custom Artist Series (SRV, Jimmie Vaughan Tex-Mex, Bonnie Raitt, James Burton Tele, Yngwie Malmsteen Strat, Richie Sambora Strat, American Special series, . D'Aquisto Series Archtops, Showmaster Series, Time Machine Series, Custom Classic Series, Custom Shop, American Vintage Series, '52 Tele, '62 Custom Telecaster, '57 Stratocaster, '62 Stratocaster, '62 Jazzmaster, '62 Jaguar, American Series, Classic Series, Standard Series....they're all in here.. along with a mind-numbing selection of amps, Bass Gear, Squiers, Acoustic Fenders, Guild Flattops, Guild Customs, X700 Stuart and Artist Award Benedettos, etc.....very cool photos.
It's been read but remains in excellent condition....over 200 pages!! A wonderful addition to the library of any Fender fan..this would be the one to take on the long weekend retreat or vacation....what a read!! ...
$24.95 (post paid US)
For Paypal purchase (US only) simply hit the "Buy Now" button below.
---
---
OVERSEAS please inquire re: postage.
If you have any questions ...please e-mail











---
---
---
Home | Guitars | Guitar Parts & Accessories | Picks | Banjos, Mandolins, Ukes, etc. | Banjo Parts & Accessories | Primo Pots | Guitars Wanted | Contact | Guitar Tuner Reference | Magazine Backissues | books, catalogs, etc) | Vintage Paper (catalogs, folios,etc) | Photo Gallery | Vintage Print Ads | Vintage Gibson Sheet Music |
&copy 2022 Music Man. All Rights Reserved.