2002 FENDER FRONTLINE EXTRA- BASS STREET!!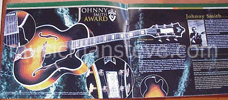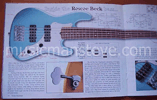 Offering for your consideration this original 2002 FENDER FRONTLINE EXTRA catalog shown in the photos. This is an 8 1/2" x 11" format full color brochure printed on good magazine stock that contains photos and information on some of Fender's cool electric guitars. Johnny Smith Award Guild, Dyna-Touch Amps, Frontman Amp Series II, Toronado American Special series, Buddy Guy Stratocaster, Cyclone II, Competition Mustang, Tom Delonge Stratocaster, Affinity Series, Jason Ellis Signature Model Showmaster, Showmaster Ghost Flame HH, Squier Acoustic, Mandolins, etc. Reverse is Bass Street featuring endorsers Reggie Hamilton, Mark & Mike Show, Bassman Heads, Rhonda Smith, Roscoe Beck and Fender Basses available at the time...Mustang Bass, Mark Hoppus Bass, Jazz, P-Bass, etc..very cool photos.
It's been read but remains in very good condition....36 pages!! A wonderful addition to the library of any Fender fan..this would be the one to take on the long weekend retreat or vacation....what a read!! ...
$24.99 (post paid US)
For Paypal purchase (US only) simply hit the "Buy Now" button below.
---
---
OVERSEAS please inquire re: postage.
If you have any questions ...please e-mail











---
---
---
Home | Guitars | Guitar Parts & Accessories | Picks | Banjos, Mandolins, Ukes, etc. | Banjo Parts & Accessories | Primo Pots | Guitars Wanted | Contact | Guitar Tuner Reference | Magazine Backissues | books, catalogs, etc) | Vintage Paper (catalogs, folios,etc) | Photo Gallery | Vintage Print Ads | Vintage Gibson Sheet Music |
&copy 2022 Music Man. All Rights Reserved.