1996 FENDER CUSTOM SHOP GUITARS and AMPLIFIERS CATALOG
Click on small photos to view large photo.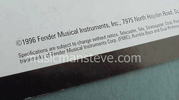 Offering for your consideration this original 1996 FENDER CUSTOM SHOP GUITARS and AMPLIFIERS CATALOG shown in the photos. This is an 8 1/2" x 11" format full color brochure printed on good magazine stock Volume 50, Number 1 that contains photos and information on guitars and amps offered by FENDER's CUSTOM SHOP at this time. Namesakes...D'Aquistos, Robben Ford Elite and Ultra, Robert Cray Strat, Dick Dale Strat, Jerry Donahue Telecaster, Danny Gatton Tele, Albert Collins Tele, Clarence White Tele, Waylon Jennings Tele, Set Neck Contemporary, Relics (50s NoCaster, 50s Strat, 60s Strat, 60s Jazz), Custom Classics, Cool white tolex amps and DREAMS COME TRUE custom guitars......very cool photos.
20 lavishly photographed pages of FENDER gear!! A wonderful addition to the library of any Fender fan.. ...$24.95 (post paid US)
For Paypal purchase (US only) simply hit the "Buy Now" button below.
---
---
OVERSEAS price is $24.95 plus $12.99 postage. For direct Paypal payment (overseas)...just hit the "PayPal Payments" button below.



If you have any questions ...please e-mail Steve


musicman5@cox.net









---
---
I usually respond to ALL e-mail inquiries. If you do not get a response it usually means I did not get the e-mail message...try again with a cc to steve@musicmansteve.com


---
Home | Guitars | Guitar Parts & Accessories | Picks | Banjos, Mandolins, Ukes, etc. | Banjo Parts & Accessories | Primo Pots | Guitars Wanted | Contact | Guitar Tuner Reference | Magazine Backissues | books, catalogs, etc) | Vintage Paper (catalogs, folios,etc) | Guitar Parts & Accessories | Photo Gallery | Vintage Print Ads | Vintage Gibson Sheet Music |
&copy 2018 Music Man. All Rights Reserved.